Acrobatic circuits in trees – Quick jump – Ultimate Route
"Take the heights and challenge yourself!"
Want to surpass yourself, take to the heights and challenge yourself, this acrobatic park is for you!
107 games – 750 m of zip line – 1300 m of circuits with continuous safety line!
9 circuits increasing from 0,5 m to 15,5 m high for the pleasure of the all… and for the bravest the Quick Jump: a jump from a height of 17m! And also a new challenge: the "Ultimate Route", a 20 m high tree climb!
Acro Sensations (+Discovery)
Acro Xtrem (+Sensations)
Quick Jump

Ultimate Route

accompanied
2h30 – 3h
The circuits, the Quick Jump and the Ultimate Route can be done several times​.
Last departure on the circuits: 6 pm
Multiactivity price: -10 %
from 2 different activities purchased.
The activities can be carried out over several days.
Reduced price: -5%
for 6 people or more

Excluding outdoor sports. Prices cannot be combined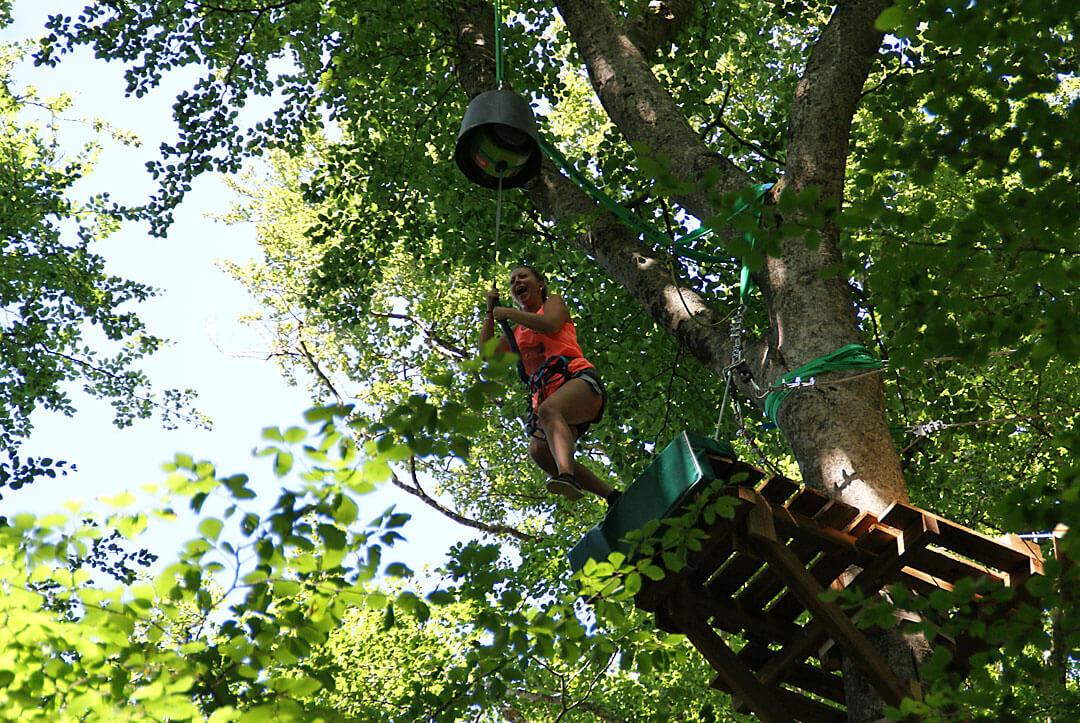 Rules of the Autonomous Acrobatic Park
You are about to do an Acrobatic Park by your own (no instructor will escort you)
Your safety depends on the observance of the instructions
Parents (or accompanying persons) have a supervisory role
A child is not allowed to enter a route alone without parents (or accompanying persons) supervison
Instructors role is to operate in case of difficulty (don't hesitate to ask them for help)
Instructors can stop the activity, at any time, if the rules are not respected
If you leave your harness, come to an instructor to make it checked, before starting again the activity
Don't forget to tie your hair
On the platforms : 2 people max.
On the games : 1 people max.
Regulation and installation of the harness
10 years old and over
"A team strategy!"
"Without ever getting lost!"