"Win your parents!"
The perfect family activity, take advantage of its 12 mini golf tracks in the heart of the forest.
Family price: -5%
for 5 people or more
Group rate : -10 %
for 10 people or more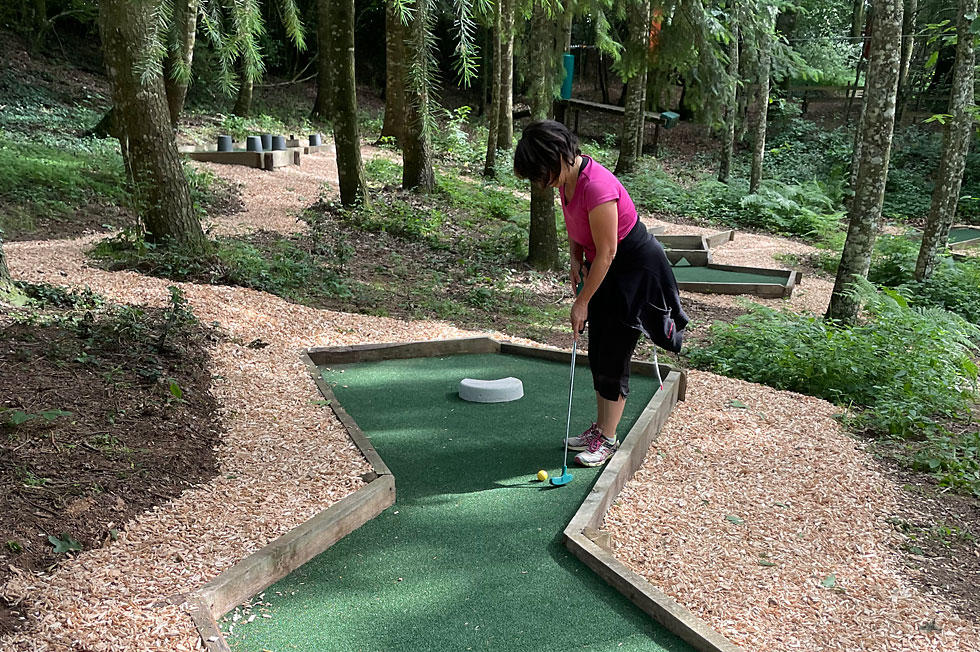 Game rules
The objective is to use your club to move the ball from the "Tee" starting point to the finishing point with the minimum number of shots.
Place your golf ball on the departure tee and play with your two hands on your club.
If your ball doesn't go beyond the first obstacle it must be put back on the tee and counts for one point.
After three attempts without going beyond the obstacle, the ball is placed by hand, 30 cm beyond the obstacle and there is a one-point penalty (three tries and one penalty).
Any balls that go outside the golf course must be positioned 15cm from the point where they left the course, there is a penalty of one point.
Any balls that stop at the edge can be moved by the length of a club (approximately 10 cm)
The maximum number of attempts on each course is 6. If, the 6th attempt doesn't work, mark 7 on the score sheet and move on to the next course.
Golf course rules
– Each player is responsible for the club and ball that they were given
– Please respect the course and the surrounding areas
– Your club and ball are for your personal use and must not be loaned to others
– For teams of more than 4 players, please don't wait for all your team to play before moving on to the next hole, particularly at peak times.