Geolocalized outdoor escape game • NEW
"Diabolical mysteries!"
Equipped with a tablet and other accessories, you have to solve a mystery, break a curse or open an ancient treasure chest…
Your escapade is interactive and geolocalized, with diabolical mysteries, strange hidden objects, secret mechanisms, and many other challenges…
2 adventures possible: L'école des sorciers (The Sorcerers' School) and Le secret du templier (The Templar's secret).

The Sorcerers' School
Today is the big day, the entrance exam for the academy of magic, to be admitted you have to prepare an antidote to break the curse…
The Templar's secret
Legend says that a battle took place in this very forest between the templars and the troops of King Philippe. The templars were beaten but they hid something here…
Each team gets a tablet and an accessory kit.
We recommend a maximum of 4 to 5 players per team.
Tablet per team
~ 1h30
Family price: -5%
for 5 people or more
Group rate : -10 %
for 10 people or more


There's always a good reason to come have fun in our park.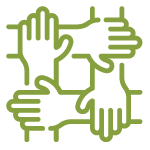 Do not hesitate to contact us to discuss the feasibility of any special requests you may have.